Product Description
Autel's MaxiIM IM508 is the only device you'll want to have. Android-based, quad-core touch screen tablet. With its intuitive design and simple interface, it enables technicians of all levels to perform operations from simple maintenance to system diagnostics and key programming.
AUTEL MaxiIM IM508 Advanced IMMO & KEY Programming Car Diagnostic Auto Scanner Tool XP200 Key Programmer

MaxiIM IM508 Description:

MaxiIM IM508 is a fast, easy-to-use, and ultraportable immobilizer and key programming device. The Android-based touchscreen tablet features powerful quad-core processor, intuitive design and straight-forward interface. Equipped with the XP200 key programmer, IM508 is capable of providing extraordinary service functions for the immobilizer system. Together with the ability to quickly diagnose all modules of the majority of makes and models on the market, IM508 provides you with superior special functions. IM508 is the perfect solution for shops and technicians who demand affordable and powerful IMMO and diagnostic services.

MaxiIM IM508 Highlights:
Powerful Cortex-A9 processor

7"1024x600 LCD capacitive touchscreen

Internal reliable 32GB Memory

Android Operating System for fast boot-up and multitasking

Powerful combination of key programming/all system diagnostics/advanced maintenance services

Smart Mode for guided and automated key learning

Expert Mode for advanced key learning

Read PIN/CS (all key lost) , key generation, key learning, remote learning

IMMO ECU reset/adaptation, refresh/coding

Transponder read/write, EEPROM/MCU read/write

Powerful OE level diagnostics for more than 80 US, Asian and European makes and models

Advanced maintenance services including EPB, DPF, SAS, Oil reset, BMS and TPMS sensor ID relearn
Autel MaxiIM IM508 Function List:
All Systems Diagnostics

AutoVIN / AutoScan

Read / Erase Codes

View, Record, Playback Live Data

View Freeze Frame Data

Shop and Data Manager Applications

Key Read / Write

EEPROM / MCU Read / Write

Read PIN / CS (All Key Lost)

Key Generation

Key Learning

Remote Learning

Backup / Restore IMMO Data

IMMO ECU Reset / Adaptation

IMMO ECU Refresh / Coding

BMW FEM / BDC Key Learning and ECU Adaptation

VW / AUDI MQB Key Learning, 48 Transponder (96-bit) Add Key, All Key Lost, A6 All

Key Lost, and More
How to Update Autel MaxiIM IM508 Software ? ?

1. Make sure the Display Table is connected to power source with stable access to the Internet.
2. Tap the Update application button from the MaxiIM Job Menu;or tap the update notification message when received one;or tap the Update icon on Vehicle Menu in Diagnostics application.The Update application screen displays.
3. Check all available updates:
►If you device to update all the items of IMMO software,select IMMO Tab and then tap the Update All button;if you want to update all items of diagnostic software,select Diagnose Tab and then tap the Update All button.
►If you only want to update one or some of the item(s),tap the Update button on the right colum of the specific item(s).
4. Tap the Pause buttons to suspend the updating process.Tap Continue to resume the update and the process will continue from the pause point.
5. When the updating process is completed,the firmware will be installed automatically.The version will replace the older version.

Smart Mode & Expert Mode:
Smart Mode–accesses to a function menu where each function is configured as a smart guide system.

Expert Mode–accesses to a function menu where each function is separated from each other.


IMMO:
The IMMO application requires a data link to the IMMO electronic control system of the test vehicle for diagnosis via OBD II connection.

The application retrieves vehicle IMMO information and performs IMMO related functions, including Key Learning, Remote Control Learning, Remote Control Add, etc.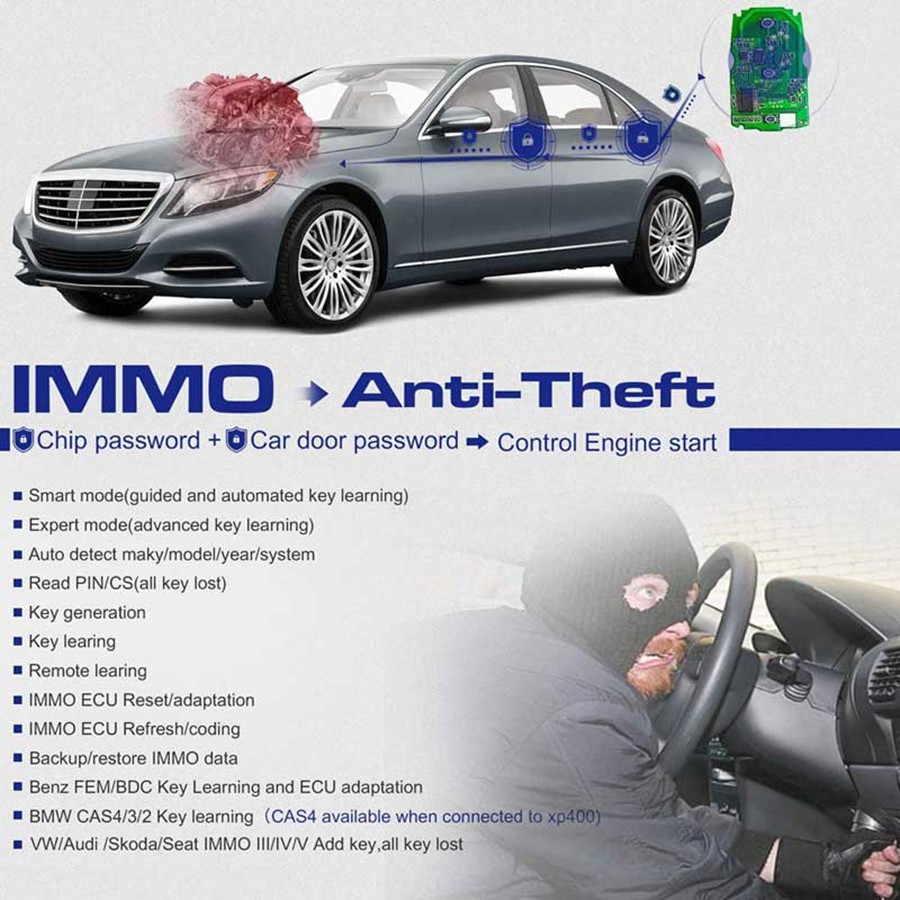 IMMO & Key Programming :
Read PIN/CS (AII key Lost)

Key Generation

Key Learning/Remote Learning

Backup/Restore IMMO Data

IMMO ECU Reset/Adaptation,Refresh/Coding

BMW FEM/BDC Key Learning and ECU Adaptation

VW / AUDI MQB Key Programming, 48 Transponder (96-bit) Key Splicing, Full Lost, A6 Full Lost and More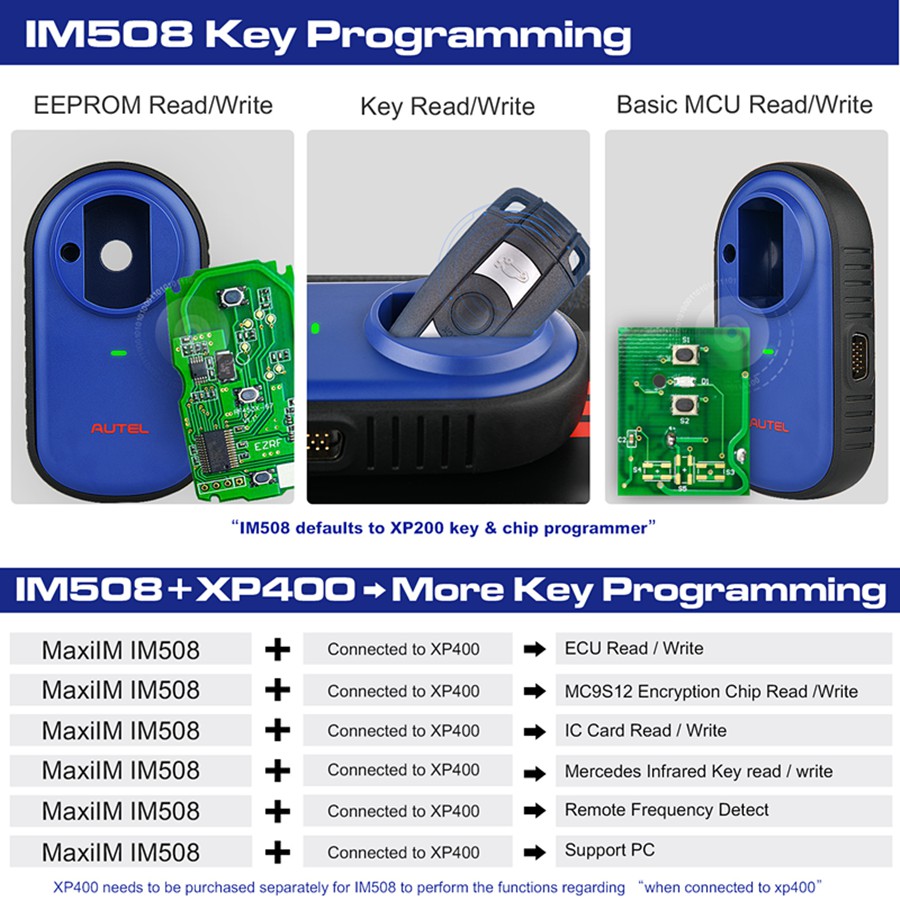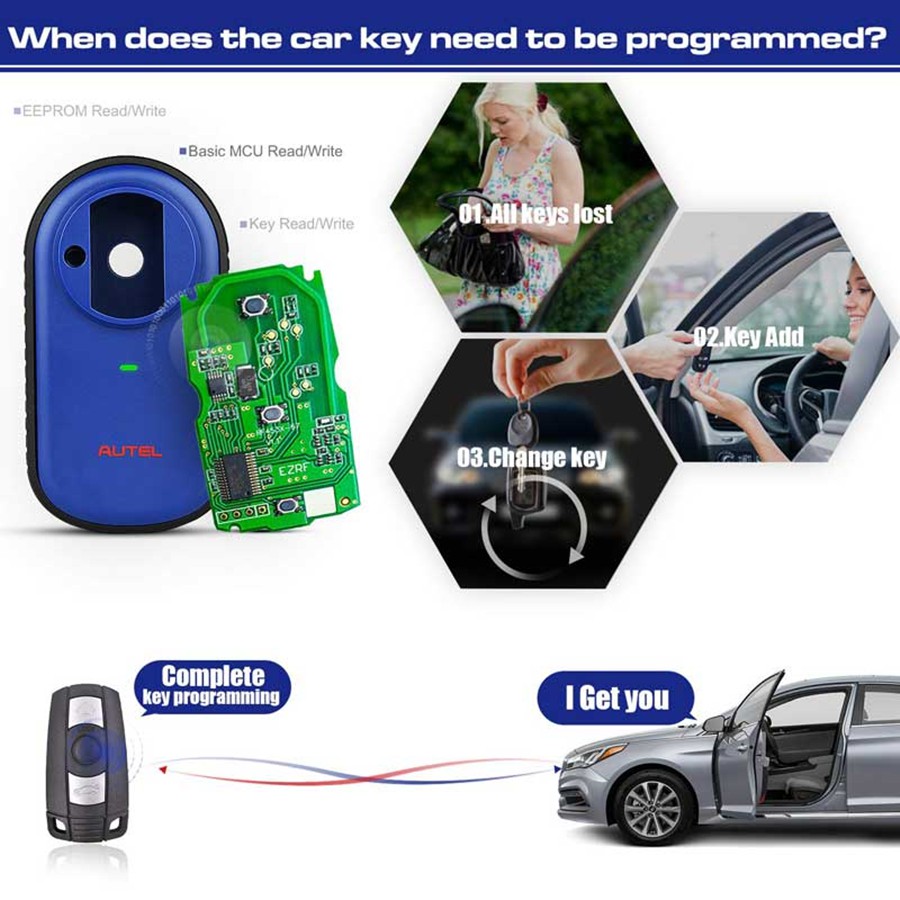 Most Useful Service Functions:

As a professional diagnostic scanner, IM508 comes with most useful service functions
Oil Reset

SAS Calibration

TPMS Sensors ID Relearn

Reset Parking Brake Pads after replacement

BMS and performing active tests to test the integrity or functionality of individual system or component.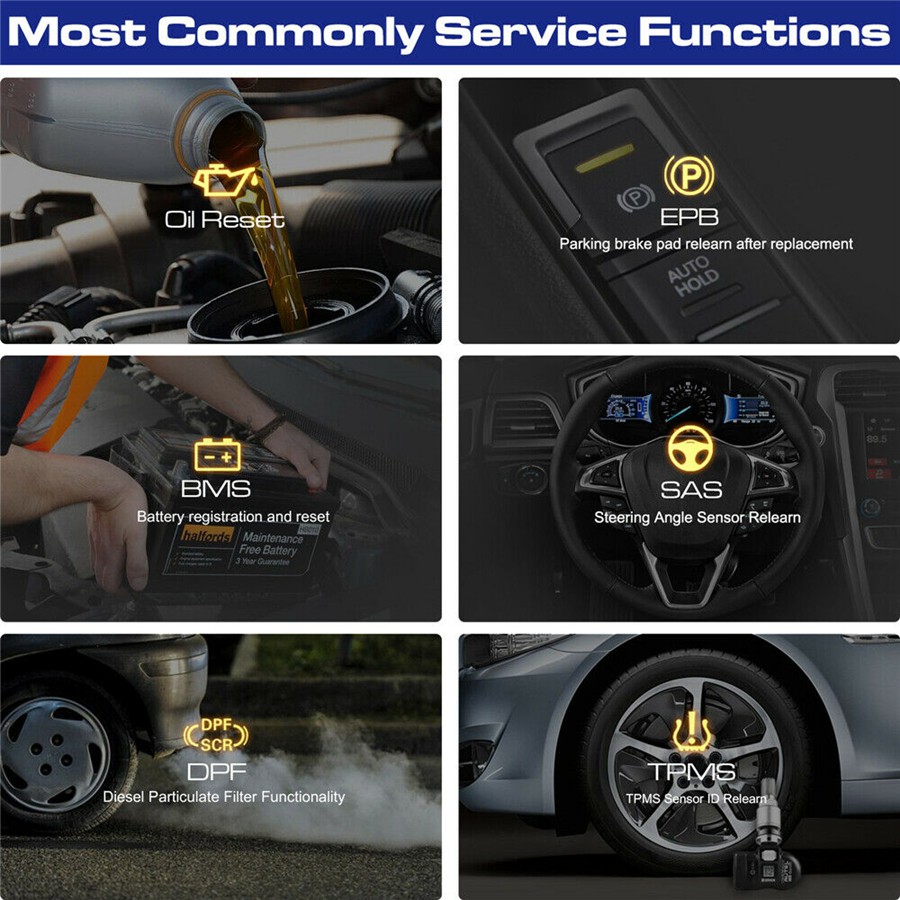 OE-Level All Systems Diagnosis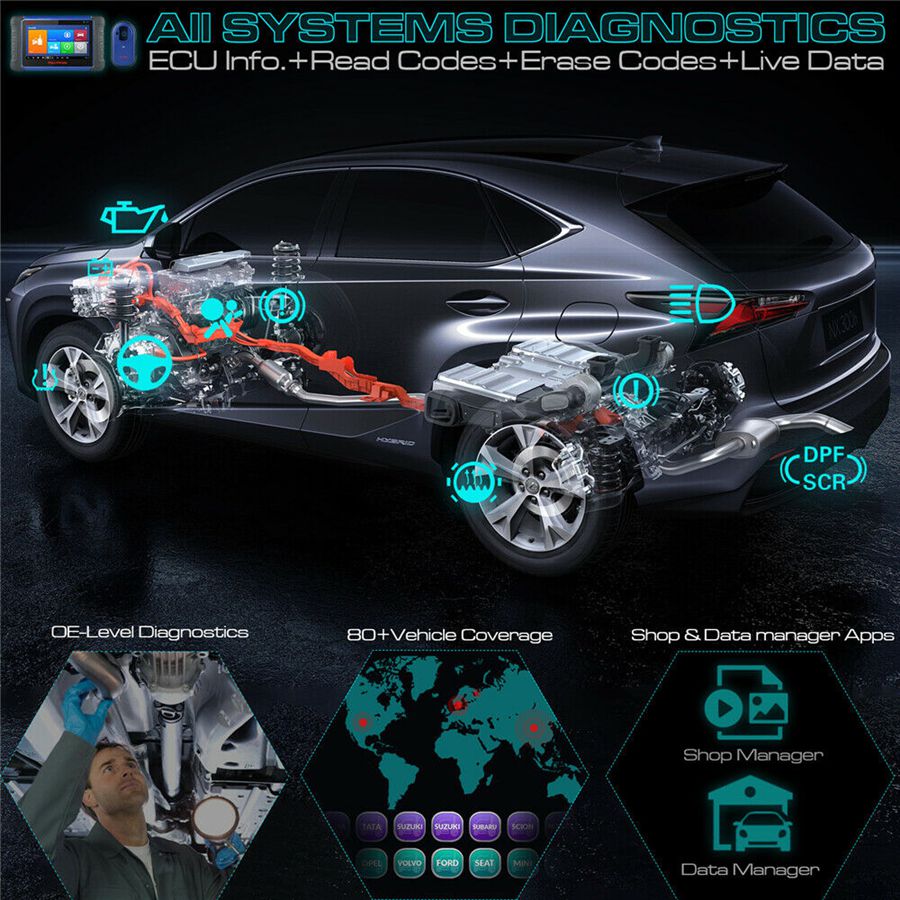 XP200:
The XP200 is specially designed to read Volkswagen vehicle key chip data, clone and generate exclusive keys, read/write on-board EEPROM data, and read/write Freescale 9S12 MCUs. By working with diagnostic tool and PC that are both loaded with programmer software, the XP200 can read/write key chip data quickly and accurately.


Supported Automotive Protocols:

ISO9141-2, ISO14230-2,ISO15765, K/L-Line, Flashing Code, SAE-J1850 VPW,SAE-J1850 PWM, ISO11898 (Highspeed, Middlespeed, Lowspeed and Singlewire CAN, fault-tolerant CAN), SAE J2610,GM UART,UART Echo Byte Protocol, Honda Diag-H Protocol, TP2.0, TP1.6
Autel IM508 EEPROM Read/Write Supported Types:
ATMEL
AT24C01,AT24C02,AT24C04,AT24C08,AT24C16,AT24C32,AT24C64,AT24C128,AT24C256,AT24C512,AT24C1024,AT24C128_1.8
AT24C256_1.8,AT24C512_1.8,AT24C01A,AT25010,AT25020,AT25040,AT25080,AT25160,AT25320,AT25640,AT25128,AT25256
AT25512,AT25010_1.8,AT25020_1.8,AT25080_1.8,AT25320_1.8,AT25640_1.8,AT25128_1.8,AT25256_1.8,AT59C11,AT59C22
AT93C46A,AT59C13,AT93C46,AT93C46R,AT93C56,AT93C57,AT93C66,AT93C76,AT93C86

CATALYST
CAT25C01,CAT25C02,CAT25C04,CAT25C08,CAT25C16,CAT25C32,CAT25C64,CAT25C128,CAT25C256

FAIRCHILD
NM24C16U,NM24C16UT,NM24C17U,NM24C17UT,FM93CS46T

MICROCHIP
85C72,85C82,85C92,25xx080,25xx160,25xx320,25xx640,25xx040_TSSOP,25xx320_TSSOP,25xx640_TSSOP,93C06,25xx040
93C46X,93C46A,93C46,93C46AX,93C46BX_93C46CX,93C56A,93C56,93C66A,93C66,93C76A,93C76,93C86A,93C86

NXP
PCF8582C,PCF8594C,PCF8598C

NATIONAL
NM93C13,NM93C14,NM93CS06,NM93C14TM8,NM93CS46,NM93CS56,NM93CS66

OKI
MSM16911

SONY
CXK1011,CXK1012,CXK1013

Seiko
S_24S45,S_24H30,S_24H30_SOP8,S_24H45,S_24H45_SOP8,S_24S30

ST
M24C01,M24C02,M24C04,M24C08,M24C16,M24C32,M24C64,ST24x01/ST25x01,ST24x02/ST25x02,ST24x04/ST25x04
ST24x08/ST25x08,ST24x16,ST25x16,AT25040_1.8,AT25160_1.8,M95010,M95020,M95160,M95040,M95080,M35080,M95320
M95640,M95256,M95128,M95512,M93C46,M93C56,M93C66,M93C76,M93C86,M93S46,M93S56,M93S66

TOSHIBA
TC89101,TC89102,TC89121,TC89122

TMC
TMC93LC46,TMC93LC56,TMC93LC57,TMC93LC66,TMC93LC86

XICOR
X5043,X5045,X25043,X25045,X24C44

9S12 Read/Write Supported Types
FREESCALE
MC9S12DG128

Autel MaxiIM IM508 Specifications:

Operating System: Android™ 4.4.4, KitKat
Processor: Cortex-A9 processor(1.6 GHz)
Memory: 32GB
Display: 7-inch LCD capacitive touchscreen with 1024x600 resolution
Connectivity: Mini USB 2.0; USB2.0 Wi-Fi; Micro SD card slot(supports up to 32GB)
Sensors: Ambient light sensor for brightness auto changing
Power and Battery: 3.7 V/5000 mAh lithium-polymer battery; Charges via 5 VDC power supply
Tested Battery Life: Around 4.5 hours of continuous use
Battery Charging Input: 5V/1.5A
Power Consumption: 500 mA (LCD on with default brightness, Wi-Fi on)@3.7 V
Operating Temp: 0 to 50°C (32 to 122°F)
Storage Temp: -20 to 60°C (-4 to 140°F)
Operating Humidity: 5%-95% non-condensing
Net Weight: 885g(2.31|b.)

Autel MaxiIM IM508 vs. IM608 Comparison: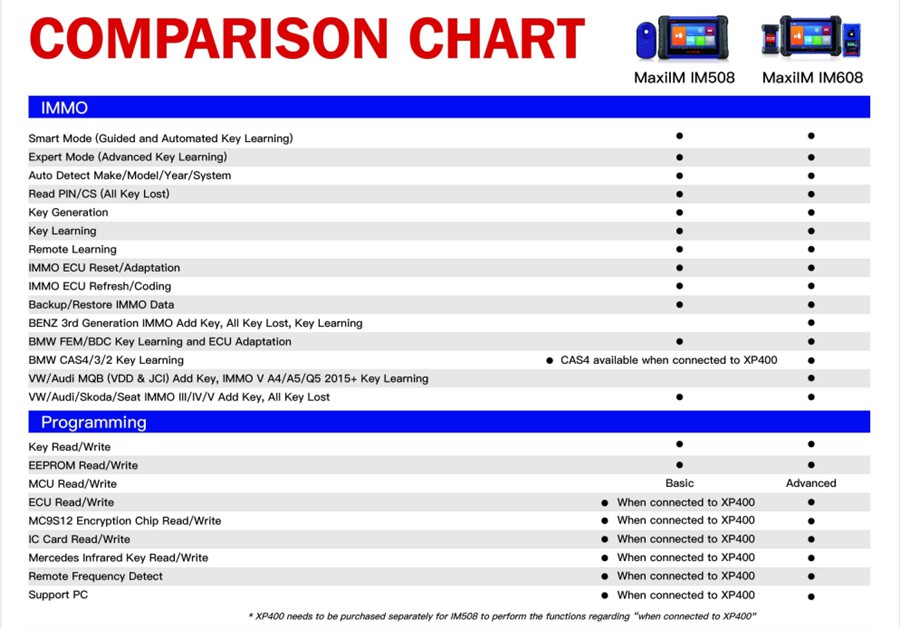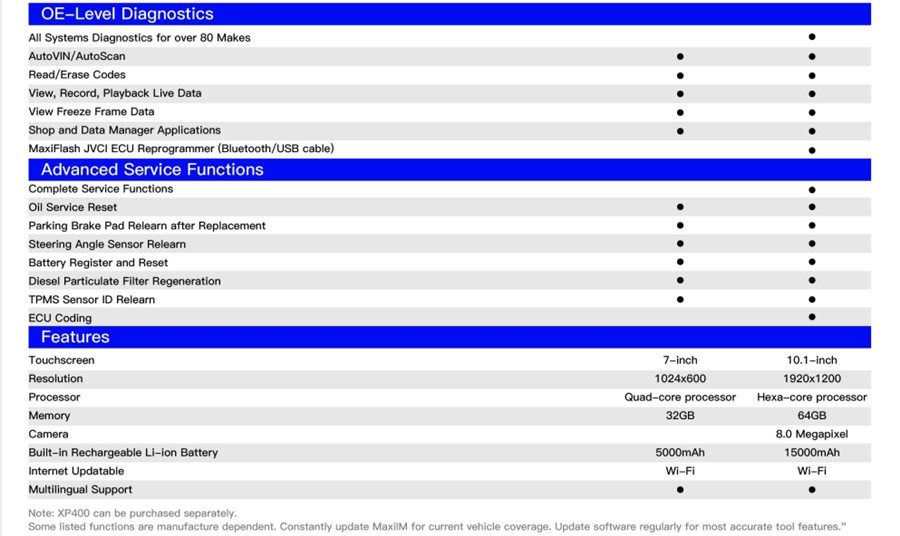 Package includes:

1PC x MaxiIM IM508 Tablet
1PC x XP200 Key Programmer
1PC x Main Cable
1PC x AAC001 – MED17 Cable
1PC x KIA-20 Adaptor
1PC x Mazda-17 Adaptor
1PC x Honda-3 Adaptor
1PC x KIA-10 Adaptor
1PC x USB External Power Adapter
1PC x Mini USB Cable
1PC x Carrying Case
1PC x Quick guide
Special Hot Products:
Hot-selling Brand Products:
Shipping method and delivery time:
Shipping from US/UK Amazon and Russia Warehouse:

About 3-5 working days,

we have hot-selling goods in the American warehouse and the British warehouse, the products are faster to transport and the price is cheaper, and there is no tax, which is very convenient for you.
DHL shipping:

about 5-7 working days,

in order to help you settle, we will help you declare a lower price in the invoice settlement. If the address is remote, the customer needs to pay for the remote transportation cost, otherwise we will ship by regular mail or Yanwen Express. Please remember to leave message if you have any special requirement.
Yanwen Express:

about 10-15 working days,

usually no tax on European countries or remote areas. The tax is prepaid and there is no customer tax when you arrive at the package.Therefore, European countries, Germany, Greece, Romania, Sweden, France and other countries have high tax rates. We recommend that you choose Yanwen Express as the first choice. If you need faster DHL, please contact us after payment, thank you
Contact Information:

E-mail: Sales@worldobd2.com
Skype: wobd2.com
What'sapp:+86 15736083074
Tidio Chat: Sales WorldOBD2.com