Product Description
SVCI V2020 ABRITES Commander Full Version Auto Diagnostic Tool
SVCI V2020 ABRITES Commander Full Version Auto Diagnostic Tool
2020 SVCI Diagnostic Tool Hightlights:
Unlocked, no activation needed

Adds Suzuki, JLR and Daihatsu software (other SVCI can't support)

Support all 22 software till year 2019

Adds more 19 software than SVCI 2018
New in V37.0
- MQB Read CS by OBDII (VDO TFT, VDO Virtual Cockpit, JCI)
- MQB All keys lost - added possibility to make it if also the car is with automatic transmission
- Read MQB transmission control units - Read CS, Clone/Restore
- Read DL501 Generation 2 transmission control unit (A6/A7 2013+) - Clone/Restore
- Replace MQB dashboard - possibility to clone an existing dashboard
- Adapt modules to MQB cars - Engine control unit, Transmission control unit, Steering lock
- Possibility to adapt manually any Immo V parts (MQB/BCM2) if the CS of the parts is known
- For cars with Immo IV dashboard (CS is 12 bytes) and Immo V engine control unit (CS is 16 bytes) - e.g. Caddy/Tiguan/Touaran/Transporter 2016+ - possibility to extract the CS (16 bytes) of the key and of the ECU from the CS of the dashboard
- Unsuppoprted VDO NEC dashboards added - both for mileage and keys (e.g. VW Fox)
New in V37.1
- Read MQB transmission control units - Read CS, Clone/Restore - added some unsupported DQ200x modules
New in V37.2
- Some fixes for the MQB dealer key preparation
New in V37.3
- Delphi DCM3.7 added for reading - PIN/CS/Flash
New in V38.0
- Component protection generation 2 - new online functionality used for adaptation on second hand modules for Audi (A4/A5/Q5 2007-2017, A6 2003-2018, A7 2010-2018, A8 2010-2018, Q7 2005-2015),
VW Touareg 2010-2018 and Audi/VW/Skoda MQB. Includes also MQB, but doesn't include MLB cars.
New in V38.1
- Added modules for diagnostic for the latest MLB platform (A6/A7/A8 2017+, Q7 2015+)
Note: Does not support online functions
The difference between SVCI 2020 and SVCI 2018:

Hardware Difference:

1. SVCI 2020 has fewer button batteries than SVCI 2018.
2. SVCI 2020 does not need to be activated, it will not lock the machine, and the serial number will not be lost.

Software Difference:

SVCI 2020 has 19 more software than SVCI 2018:
1.ABRITES Commander for VAG V37.0,
2.ABRITES Commander for BMW V10.5,
3.ABRITES Commander for Mercedes V10.4
4.ABRITES Commander for Bikes V2.0
5.ABRITES Commander for Chrysler V3.4
6.ABRITES Commander for Daihatsu V1.4
7.ABRITES Commander for FIAT V7.6
8.ABRITES Commander for Ford V7.7
9.ABRITES Commander for Hyundai V4.4
10.ABRITES Commander for JLR V2.6
11.ABRITES Commander for Mitsubishi V3.7
12.ABRITES Commander for Nissan V5.7
13.ABRITES Commander for OPEL V7.5
14.ABRITES Commander for Porsche V7.1
15.ABRITES Commander for PSA V6.3
16.ABRITES Commander for Renault V7.4
17.ABRITES Commander for Suzuki V1.2
18.ABRITES Commander for Toyota V11.4
19.ABRITES Commander for Volvo V6.2

These 19 softwares are all the latest software.
They support basic functions such as fault diagnosis, clearing of fault codes, reading of data streams, and motion testing to new models of 2019.
Currently, special functions are not supported. Among them, Suzuki and Daihatsu contain special functions.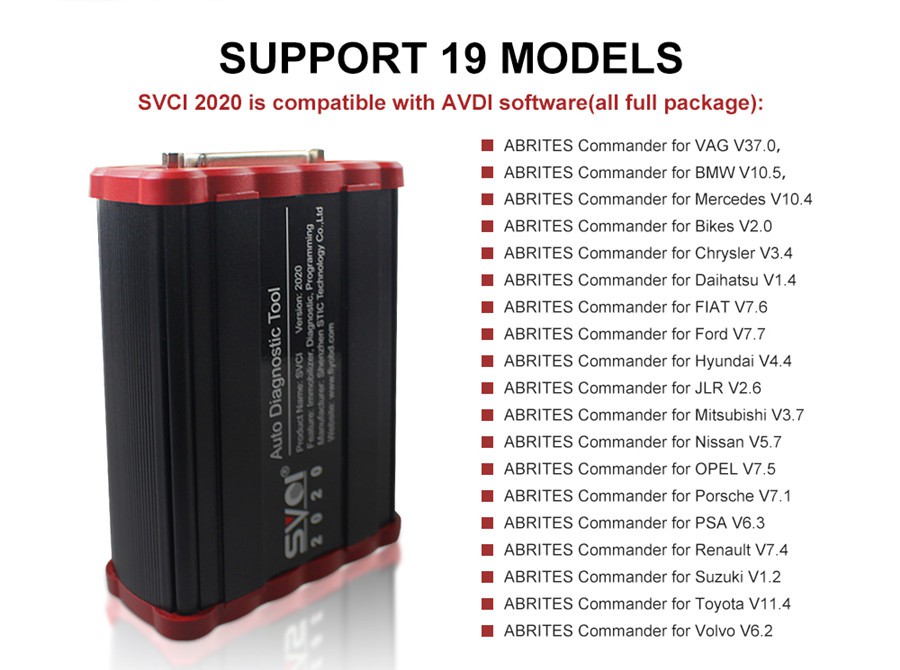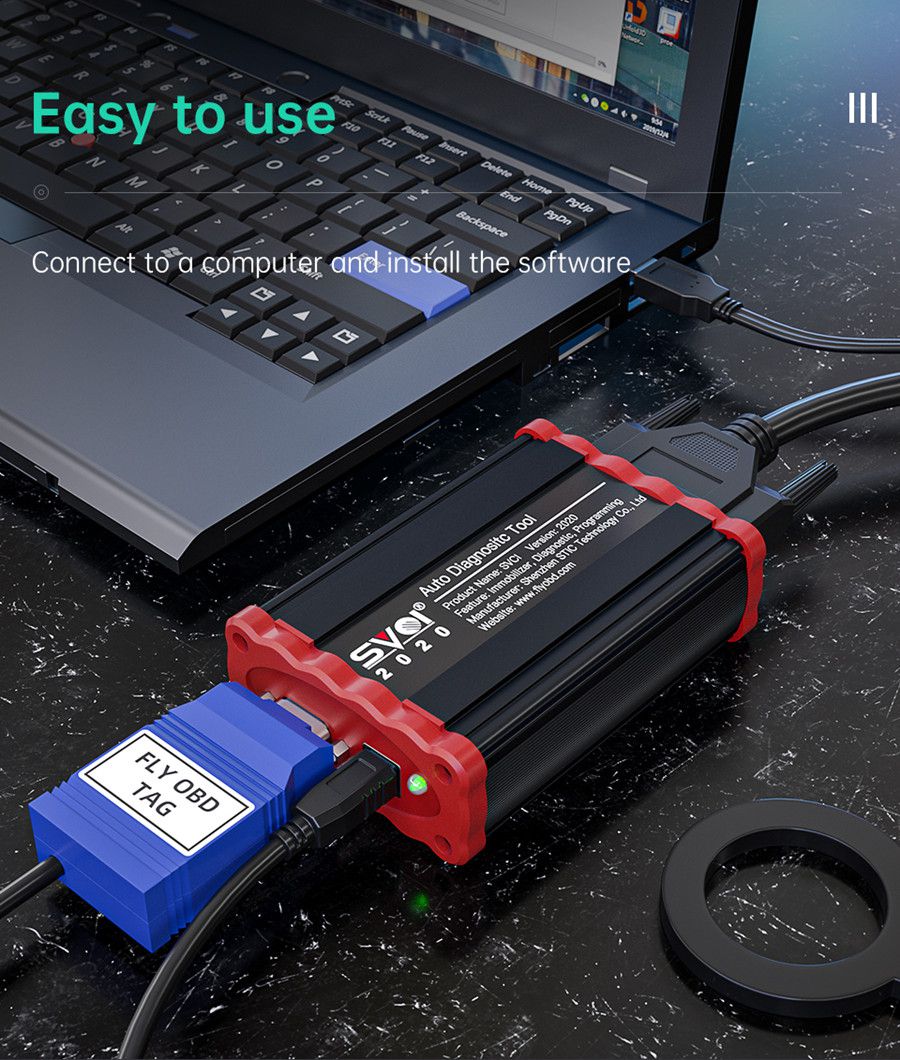 SVCI 2020 Software Installation:

There is only one executable file on the CD-ROM.
Double-click "AbritesCommanderSetup.exe" to start the installation.
Do not plug the USB into the computer during the installation.
After the installation is complete, USB is connected to the computer.

How to use SVCI 2020 Quick Start Software:

SVCI 2020 Quick Launch Software has 42 shortcut icons. Left-click the icon to launch the corresponding software.
Compared to the quick launch of SVCI 2018, the activation dialog is not displayed after clicking the icon.
The last icon is the firmware upgrade program. Click it to start the firmware upgrade program.
You must be online to download the latest firmware program. After downloading, click Update to update the firmware program.
After clicking the icon, the dongle program icon will appear in the tray at the bottom right corner of the computer.
The dongle program cannot be exited while the software is running.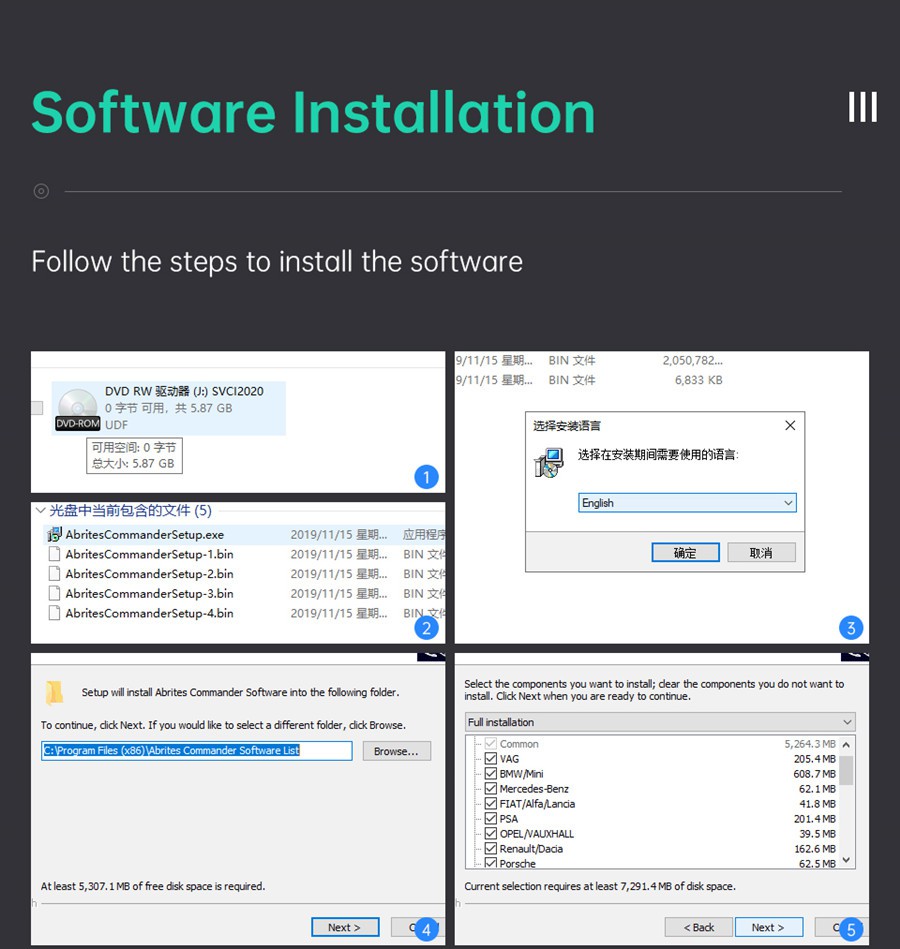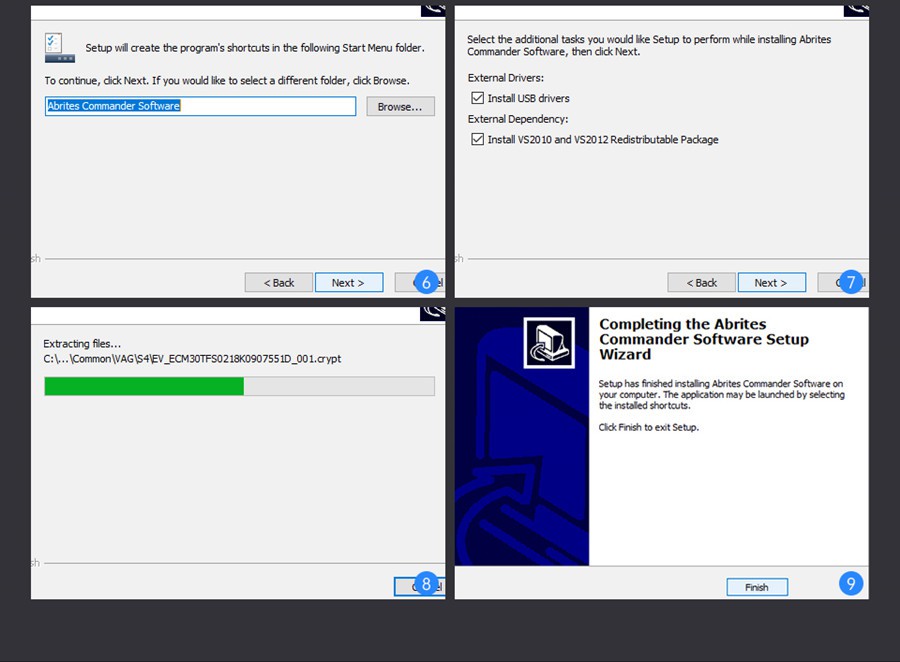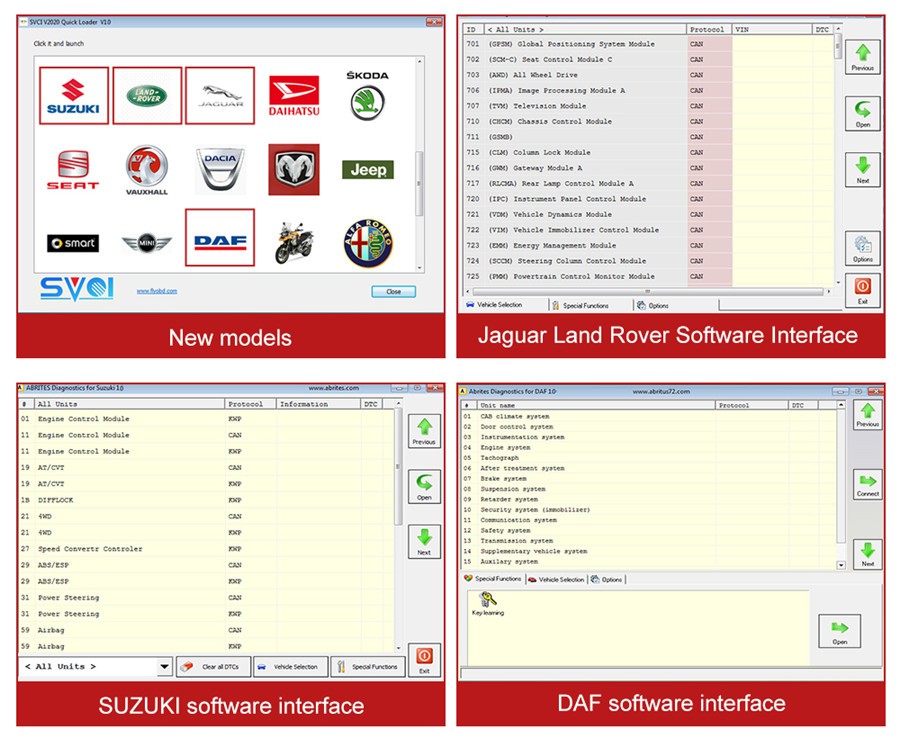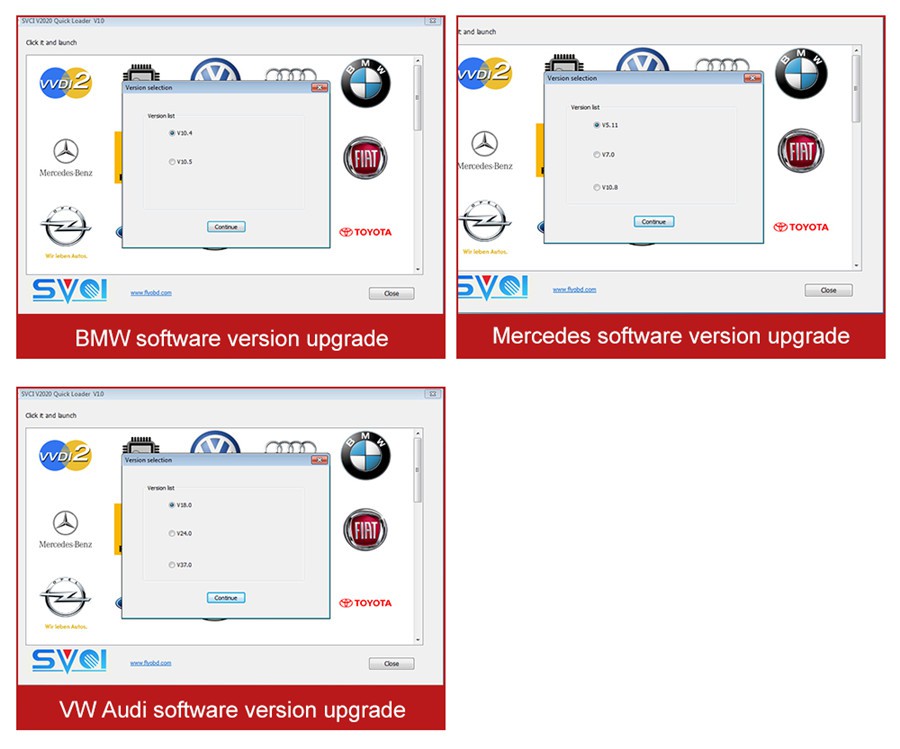 SVCI(FVDI) Hardware Comparison:
SVCI(FVDI) Hardware Comparison

FVDI 2014

FVDI 2015

SVCI 2018

SVCI 2020

support softwares

AVDI 18 software

AVDI 18 software

AVDI 18 software+
VVDI2 software
AVDI 21 software+
VVDI2 software

Software version

One version

two version

two version

three version

Support the years of
Vehicle manufacture
before
2014MY
before
2015MY
before
2015MY
before
2019MY

connection network

NO

YES

YES

NO

Online activate

NO

YES

YES

NO

useful life

forever

5 years

5 years

forever

stability

Strong

general

general

Strong

needs repaired

No

may be

may be

No
SVCI(FVDI) Software Comparison:
SVCI(FVDI) Software Comparison

FVDI 2014

FVDI 2015

SVCI 2018

SVCI 2020

Jaguar/
Land Rover

x

x

x

v2.6

Suzuki

x

x

x

v1.2

Daihatsu

x

x

x

v1.4

VVDI

x

x

v1.2.2

v1.2.2

VW/Audi/
Skoda/Seat

v18.0

v18.0
v24.0
v18.0
v24.0
v18.0
v24.0
v37.0

BMW/Mini

v10.4

v10.4

v10.4

v10.4
v10.5
Mercedes_Benz/
Smart/MAYBACH

v5.11

v5.11
v7.0
v5.11
v7.0
v5.11
v7.0
v10.8

Renault/Dacia

v5.2

v5.2
v6.3
v5.2
v6.3
v5.2
v6.3
v7.4

Peugeot/Citroen

v5.10

v5.10
v6.7
v5.10
v6.7
v5.10
v6.7
v8.0
Fiat/Lancia/
Alfa/FCA

v5.1

v5.1
v5.7
v5.1
v5.7
v5.1
v5.7
v7.6

Opel/Vauxhall

v5.8

v5.8
v6.6
v5.8
v6.6
v5.8
v6.6
v7.5

Ford/Mazda

v4.9

v4.9

v4.9

v4.9
v7.7
Chrysler/Doge
/Jeep

v3.3

v3.3

v3.3

v3.3
v3.4
Toyota/Lexus/
Scion

v9.0

v9.0

v9.0

v9.0
v11.7

Nissan/Infiniti

v4.3

v4.3

v4.3

v4.3
v5.7

Hyundai/KIA

v2.1

v2.1

v2.1

v2.1
v4.4

Volvo

v4.3

v4.3

v4.3

v4.3
v6.2

Mitsubishi Motors

v2.1

v2.1

v2.1

v2.1
v3.7

Porsche

v4.1

v4.1

v4.1

v4.1
v7.1

DAF

v1.0

v1.0

v1.0

v1.0

Bikes/
Snowmobiles/
Water scooters

v1.2

v1.2

v1.2

v1.2
v2.0

TagKeyTool

v6.2

v6.2

v6.2

v6.2
SVCI(FVDI) Supports the Years of Vehicle Models:
SVCI(FVDI) Supports the Years of Vehicle Models

FVDI 2014

FVDI 2015

SVCI 2018

SVCI 2020

Jaguar/Land Rover

x

x

x

before
2016MY

Suzuki

x

x

x

before
2019MY

Daihatsu

x

x

x

before
2019MY

VW/Audi/Skoda/Seat

before
2014MY
before
2015MY
before
2015MY
before
2019MY

BMW/Mini

before
2014MY
before
2015MY
before
2015MY
before
2019MY
Mercedes_Benz/Smart/
MAYBACH
before
2014MY
before
2015MY
before
2015MY
before
2019MY

Renault/Dacia

before
2014MY
before
2015MY
before
2015MY
before
2019MY

Peugeot/Citroen

before
2014MY
before
2015MY
before
2015MY
before
2019MY

Fiat/Lancia/Alfa/FCA

before
2014MY
before
2015MY
before
2015MY
before
2019MY

Opel/Vauxhall

before
2014MY
before
2015MY
before
2015MY
before
2019MY

Ford/Mazda

before
2014MY
before
2015MY
before
2015MY
before
2019MY

Chrysler/Doge/Jeep

before
2014MY
before
2015MY
before
2015MY
before
2019MY

Toyota/Lexus/Scion

before
2014MY
before
2015MY
before
2015MY
before
2019MY

Nissan/Infiniti

before
2014MY
before
2015MY
before
2015MY
before
2019MY

Hyundai/KIA

before
2014MY
before
2015MY
before
2015MY
before
2019MY

Volvo

before
2014MY
before
2015MY
before
2015MY
before
2019MY

Mitsubishi Motors

before
2014MY
before
2015MY
before
2015MY
before
2019MY

Porsche

before
2012MY
before
2012MY
before
2012MY
before
2019MY

DAF

before
2012MY
before
2012MY
before
2012MY
before
2019MY
Bikes/Snowmobiles/
Water scooters
before
2012MY
before
2012MY
before
2012MY
before
2019MY

TagKeyTool

before
2015MY
before
2015MY
before
2015MY
before
2015MY

VVDI

before
2015MY
before
2015MY
before
2015MY
before
2015MY
SVCI FVDI V2020 FAQs:

Q 1: What can do scvi2020 that not can do fvdi 2014 ?
A 1: support new cars : Renault , FIAT , VW .... , VVDI2 include , better tag key tool to prepare specials keys ...
For the price , you can bought it ( 230€ )

Q 2: Can SVCI V2020 work normally when the network is connecting ?
A 2: No need to connect the network. If the network is connecting when using SVCI, it won't damage the machine.

Q 3: Is SVCI FVDI V2020 available with multi language ?
A 3: yes, you can reset the language in the car model list.
Also, the svci 2020 software has language list.

Q 4: Any computer operation system requirements for svci 2010 ?
A 4: win7, 8 , 10 are all okay.

Q 5: SVCI V2020 is 12 months activation or lifetime ?
A 5: No need activation.

Q 6: Does SVCI V2020 have button batteries ?
A 6: No, it doesn't. Without battery, the machine won't lock and easy to ship.

Q 7: can SVCI V2020 correct odometer for Fiat?
A 7: Yes, it can cover Fiat up to 2015 year.

Q 8: Can SVCI V2020 support Audi a5 2011 bcm2 component protection?
A 8: Yes, it can.

Q 9: Can SVCI V2020 support audi a5 2011 bcm2 synchronization ?
A 9: No. it doesn't support the online function.

Q 10: Does SVCI V2020 have J2534 ?
A 10: No.

Q 11: Is SVCI V2020 compatible with the AVDI software ?
A 11: No. It can't work with other machine, the software is bound together with the serial number.

Q 12: Does SVCI V2020 have key programming function ?
A 12: yes.

Q 13: Can svci 2020 support the special functions of VAG, BMW, Benz, such as mileage correction and key learning ?
A 13: yes, basically up to 2014 year.

Package includes:

1pc x SVCI FVDI V2020 Original FVDI ABRITES Commander FVDI Full Version FVDI 2020 Auto Diagnostic Tool


Special Hot Products:
Hot-selling Brand Products:
Shipping method and delivery time:
Shipping from US/UK Amazon and Russia Warehouse:

About 3-5 working days,

we have hot-selling goods in the American warehouse and the British warehouse, the products are faster to transport and the price is cheaper, and there is no tax, which is very convenient for you.
DHL shipping:

about 5-7 working days,

in order to help you settle, we will help you declare a lower price in the invoice settlement. If the address is remote, the customer needs to pay for the remote transportation cost, otherwise we will ship by regular mail or Yanwen Express. Please remember to leave message if you have any special requirement.
Yanwen Express:

about 10-15 working days,

usually no tax on European countries or remote areas. The tax is prepaid and there is no customer tax when you arrive at the package.Therefore, European countries, Germany, Greece, Romania, Sweden, France and other countries have high tax rates. We recommend that you choose Yanwen Express as the first choice. If you need faster DHL, please contact us after payment, thank you
Contact Information:

E-mail: Sales@worldobd2.com
Skype: wobd2.com
What'sapp:+86 15736083074
Tidio Chat: Sales WorldOBD2.com