Product Description
VIDENT iAuto700 is a professional level diagnostic handheld tool, offering comprehensive system coverage for a vast array of car manufacturers. Featured with all system diagnosis including engine, transmission, ABS, Airbag, instrument, steering wheel, etc., and the most commonly required service features oil light/service reset, EPB and Battery configuration, iAuto700 provides workshops, technicians and enthusiasts alike affordable professional diagnostics solutions.
VIDENT iAuto700 Professional All System Scan Tool



Note: Not sale to Australia! Because in Australia, there is exclusive brand agents.

VIDENT iAuto700 Features:
1.Provide easy diagnosis on more than 76 American, Asian and European vehicle makes
2.Work on both OBDI and OBDII cars, SUVs, minivans, light-duty trucks sold worldwide, including the latest 2017 models on selected makes
3.Read and clears codes and turns off MILs of all systems (typically Engine, ABS, Airbags, Immobilizer, Instrument Cluster, Climate Control, Power Steering, Automatic Transmission and more!).
4.Support Oil Service Reset, service mileage and interval reset
5.Support Electronic Parking Brake (EPB) reset
6.Support Battery Configuration
7.Identifies the vehicle you are testing rapidly and accurately on the basis of its VIN number
8.It shows live vehicle sensors data in text and graph format and allows you to focus on any suspicious or symptom specific data
9.You can view 2 parameter graphs simultaneously and merge them into one coordinate, so you can easily see how they affect each other, providing you with the most comprehensive and functional look at live data possible
10.Retrieves ECU information
11.Displays freeze frame data
12.Supports all OBDII test models such as live data, O2 sensor test, component test and more.
13.Allow to print out diagnostic test data via PC suite
14.Multilingual menu options-English, French, German, Polish, Russian, Spanish and much more.
15.Internet updatable via USB
16.4.3"LCD color display, clearly arranged keys, menu driven operation, and shortcuts together make this device extremely easy to use
17.Its ruggedized design and rubber sleeve resist impact and damage in the tough workshop environment.
Supported Protocols:

ISO9141-2, ISO14230-2, ISO15765-4, K/L lines, Double K Line SAE-J1850 VPW, SAE-J1850PWM, CAN ISO 11898, Highspeed, Middlespeed, Lowspeed and Single wire CAN, KW81, KW82, GM UART, UART Echo Byte Protocol, Honda Diag-H Protocol, TP2.0, TP1.6, SAE J1939, SAE J1939, SAE J1708, Fault-Tolerant CAN.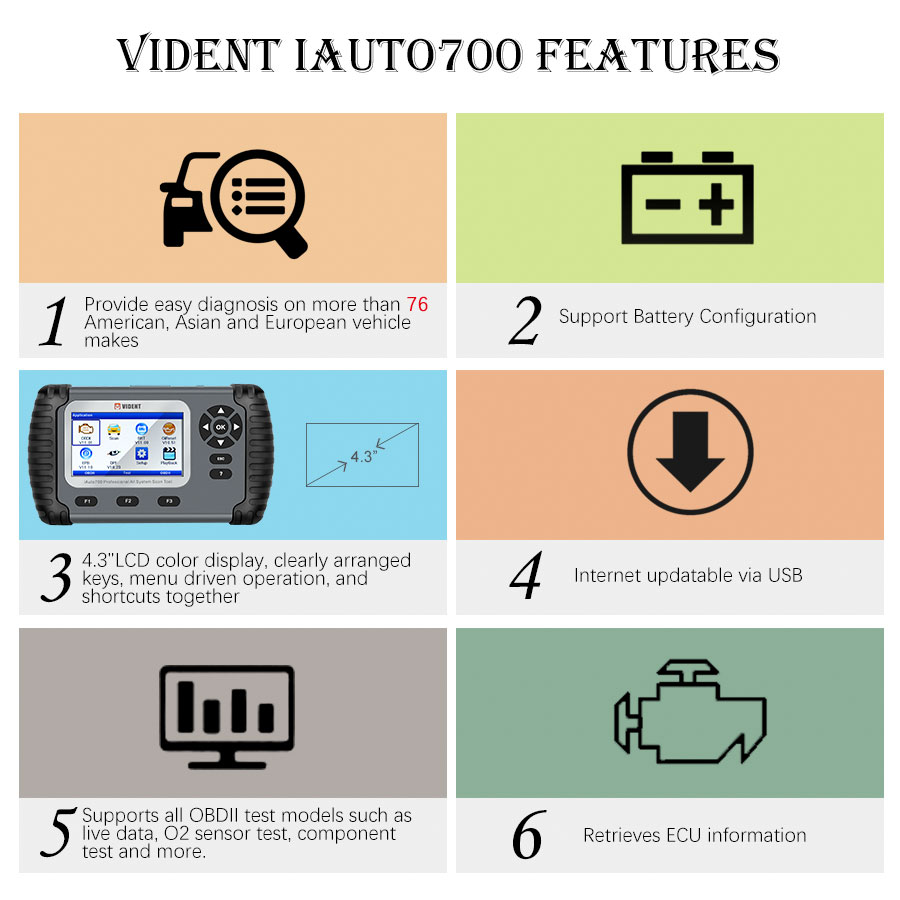 Support Languages:
English, French, German, Spanish, Italian, Dutch, Polish, Swedish, Simplified Chinese, Traditional Chinese, Japanese, Korean, Portuguese, Hungarian, Russian, Thai
Default languages are English, Spanish, German, French
If the default language is not the language required by the user, you can change the language. The specific method is as follows:
The customer provided the product serial number to us. We open the language required by the customer in the background, and the customer downloads the language version through the upgrade tool.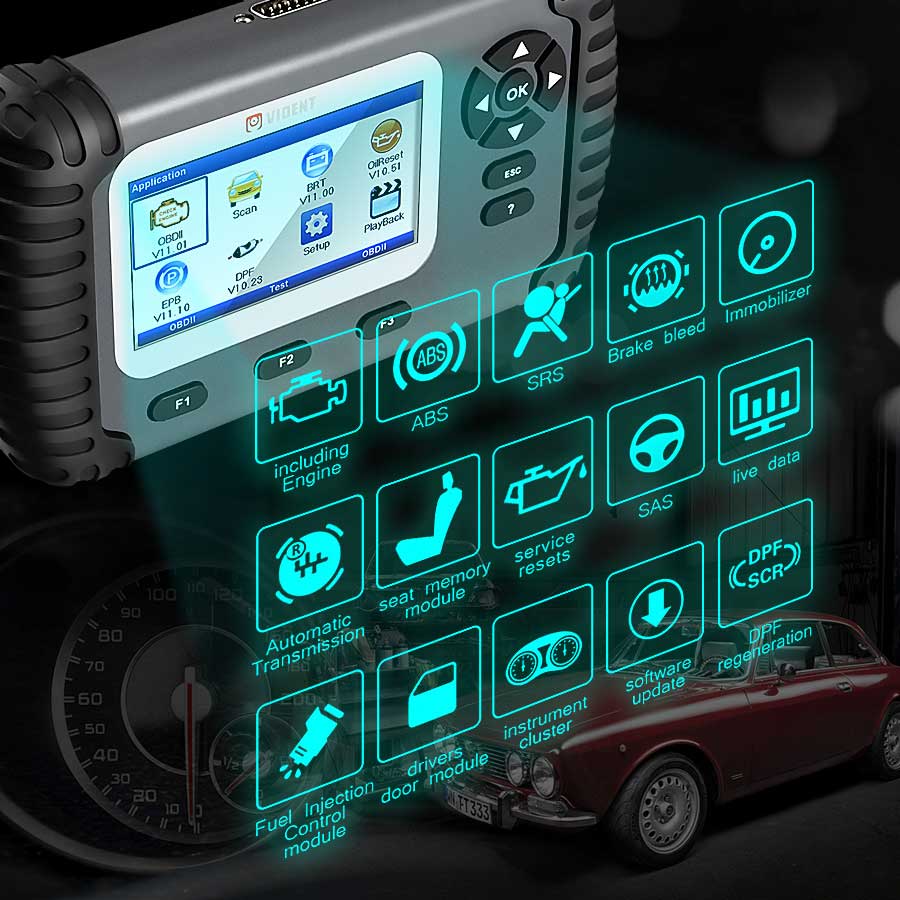 VIDENT iAuto700
Function
Vehicle Coverage
General Diagnostic Function
For Chrysler,For Ford, For GM, For Brazilian For GM(For Brazilian Market Only)
Au Ford (For Australian Market Only), For Acura, For Daewoo, For Honda, For Holden (For Australian Market Only), For Hyundai, For Infiniti, For Isuzu, For Kia, For Lexus, For Mazda, For Mahindra, For Mitsubishi, For Nissan, For Perodua, For Proton, For Scion, For Subaru, For Suzuki, For Ssangyong, For Tata, For Toyota,For Abarth, For Alfa-Romeo, For Aston Martin, For Audi, For Bentley, For BMW, For Bugatti, For Citroen, For Dacia, For Fiat, For Ferrari, For EU Ford, For Jaguar, For Land Rover, For Lancia, For Lamborghini, For Maserati, For Maybach, For Mercedes Benz, For Mini, For Opel, For Porsche, For Peugeot, For Renault,For Rolls-Royce, For Saab, For Seat, For Skoda, For Smart, For Sprinter, For Vauxhall, For Volvo, For Volkswagen, For VW_CV, For BRILLIANCE, For BYD, For CHANGAN, For CHANGHEAUTO, For CHERY, For CHERY_NE, For EMGRAND, For ENGLON, For FOTON, For GEELY, For GLEAGLE, For GREATWALL, For KARRY, For LIFAN, For MAPLE, For RELY,For RIICH
Oil Light Service
For Acura, For Abarth, For Alfa Romeo, For Audi, For Aston Martin, For BMW, For Bentley, For Bugatti, For Citroen, For Chrysler, For Dacia, For Ferrari, For Fiat, For Ford, For GM, For Holden, For Honda, For Hyundai, For Infiniti, For Isuzu, For Jaguar, For Kia, For Lancia, For Lexus, For Land Rover, For Mercedes Benz, For Mini, For Mazda, For Maserati, For Mitsubishi, For Nissan, For Opel, For Peugeot, For Porsche, For Renault, For Rolls-Royce, For Saab, For Seat, For Skoda, For Scion, For Subaru, For Suzuki, For Smart, For Sprinter, For Toyota, For Vauxhall, For Volkswagen, For Volvo
EPB Function

For Acura, For Abarth, For Audi, For Alfa Romeo, For BMW, For Bentley, For Bugatti, For Citroen, For Daewoo, For EU Ford, For Ford, For Fait, For Ferrari, For GM, For Honda, For Hyundai, For Jaguar, For Kia, For Land Rover, For Lancia, For Lexus, For Maserati, For Maybach, For Mercedes Benz, For Mini, For Opel, For Peugeot, For Porsche, For Roewe, For Renault, For Rolls Royce, For Saab, For Scion, For Seat, For Skoda, For Toyota, For Vauxhall, For Volkswagen, For Volvo

Battery Configuration

For Audi, For BMW, For Citroen, For Ford, For Infiniti, For Jaguar, For Land Rover, For Lexus, For Mini, For Mitsubishi, For Nissan, For Peugeot, For Seat, For Skoda,For Toyota, For Volvo, For VW

VIDENT iAuto700 Specification :
Display: 4.3" Backlit, 480*272 TFT color screen
Operating Temperature: 0 to 60°C (32 to 140°F)
Storage Temperature: -20 to 70°C (-4 to 158°F)
Power: 8 to 18 V provided via vehicle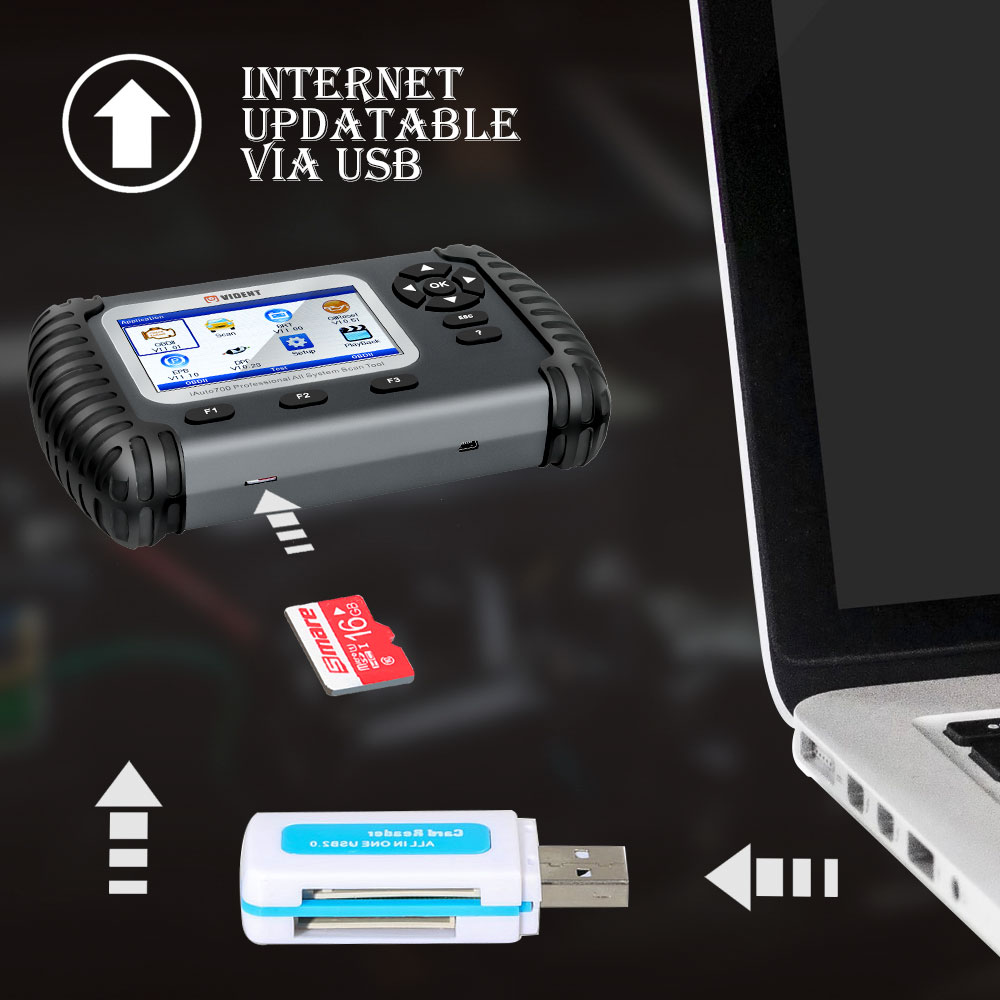 Package includes:
1pc x iAuto700 Scan tool
1pc x Diagnostic cable
1pc x User's Guide
1pc x Memory Card
1pc x USB Cable
1pc x Blow mold carrying case
Special Hot Products:
Hot-selling Brand Products:
Shipping method and delivery time:
Shipping from US/UK Amazon and Russia Warehouse: About 3-5 working days, we have hot-selling goods in the American warehouse and the British warehouse, the products are faster to transport and the price is cheaper, and there is no tax, which is very convenient for you.
DHL shipping: about 5-7 working days, in order to help you settle, we will help you declare a lower price in the invoice settlement. If the address is remote, the customer needs to pay for the remote transportation cost, otherwise we will ship by regular mail or Yanwen Express. Please remember to leave message if you have any special requirement.
Yanwen Express: about 10-15 working days, usually no tax on European countries or remote areas. The tax is prepaid and there is no customer tax when you arrive at the package.Therefore, European countries, Germany, Greece, Romania, Sweden, France and other countries have high tax rates. We recommend that you choose Yanwen Express as the first choice. If you need faster DHL, please contact us after payment, thank you
Contact Information:

E-mail: Sales@worldobd2.com
Skype: wobd2.com
What'sapp:+86 13372689373
Tidio Chat:
Sales WorldOBD2.com