Product Description
XTOOL KS-1 TOYOTA SMART KEY SIMULATOR for PS90 X100 PAD2 PAD3 PAD Elite A80 H6 All Lost via OBD2 KC100 Fit For Toyota Smart Key
XTOOL KS-1 Smart Key Emulator for Toyota Lexus All Keys Lost Work with X100 PAD2/PAD3

XTOOL KS-1 Smart Key Emulator Introduction:

1. XTOOL KS-1 Toyota / Lexus all keys lost-free disassembly, Five-in-one simulation card for generating emergency simulation keys.Once all the Toyota / Lexus keys are lost, the smart box and other modules in the car need to be disassembled,then turn on the ignition switch, so that the smart key can be removed and added, and the operation is tedious.
2. XTOOL KS-1 The five-in-one simulation card can eliminate the need to disassemble the smart box and other modules. As long as the original car data is read from the OBD to generate the simulation card, the ignition switch can be turned on to realize the function of clearing and adding the smart key.
3. XTOOL KS-1 Toyota Smart Card Support Toyota 94 / D4, 98, 39, 88 / A8, A9 type smart key all-key-lost matching.
4. The simulation card can be reused. After matching the key, turn off the power or remove the battery to restore the initial state.
5. Support generation, copy and simulation of key chip.
XTOOL KS-1 Smart Key Emulator Features:

1. For Toy-ota / For Le-xus All lost Nodisassembly
2. Support For To-yota / For L-ex-us all lost and dismantled, read the original car data from OBD to generate emergency simulation key, directly drive the car without disassembly, intelligent and efficient
3. Intelligently generate new keys
4. Through the reading of the original car data, a smart key is generated, which can then be operated according to the process of adding a key, supporting the generation, copying, and simulation functions of the key chip.
5. More Cars:
Support For To-yot-a 94 / D4, 98, 39, 88 / A8, A9 type smart keys all lost matching, matching speed is fast.

6. Reuse:
After matching the key, turn off the power or remove the battery to restore the initial state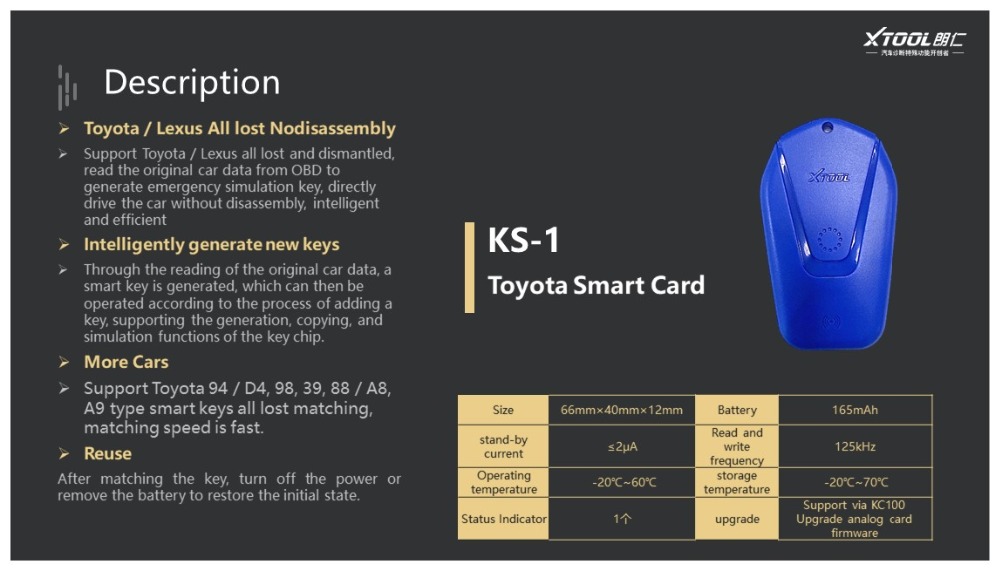 Compatible With Those Devices Work together:
XTOOL X100 PAD2 (need buy kc100)
X100 PAD2 PRO
A80(need buy kc100)
PS90(need buy kc100),
H6(need buy kc100)
X100 PAD3,
X100 PAD Elite(need buy kc100)
XTOOL KS-1 Smart Key Emulator key type Support List:
No.

vehicle

Year

Key type

Support or not

Remarks

1

RAV4

2015

88

Yes

 

2

Alphard

2013

94

Yes

 

3

Alphard

2015

A9

Yes

 

4

Previa

2008

94

Yes

 

5

Crown

2010

98

Yes

 

6

Crown

2015

A8

Yes

 

7

Crown

2016

A8

No

After 2016, Toyota crown is not supported
TANGO, K518 even rival products are not supported

8

Prado

2011

98

Yes

 

9

Previa

2013

94

Yes

 

10

Reiz

2011

98

Yes

 

11

Innova

 

39

Yes

The car is being tested for the Indian Tango
XTOOL KS-1 Smart Key Emulator Specifications:
Parameter

Index

Battery

CR2025 3V 165mAh

Standby current

Standby current≤2μA

Reading and writing frequency

125kHz

Status indicator lamp

1pc (mode: turn on and light up for 2s and then extinguish; Flicker, flash, 0.5s/ time when writing or reading)

Update

The simulation card firmware can be updated

with KC100

Working temperature

-20℃~60℃

Storage temperature

-20℃~70℃

Structure size

66mm*40mm*12mm
Package includes:
1pc x XTOOL KS-1 TOYOTA SMART KEY SIMULATOR
Special Hot Products:
Hot-selling Brand Products:
Shipping method and delivery time:
Shipping from US/UK Amazon and Russia Warehouse:

About 3-5 working days,

we have hot-selling goods in the American warehouse and the British warehouse, the products are faster to transport and the price is cheaper, and there is no tax, which is very convenient for you.
DHL shipping:

about 5-7 working days,

in order to help you settle, we will help you declare a lower price in the invoice settlement. If the address is remote, the customer needs to pay for the remote transportation cost, otherwise we will ship by regular mail or Yanwen Express. Please remember to leave message if you have any special requirement.
Yanwen Express:

about 10-15 working days,

usually no tax on European countries or remote areas. The tax is prepaid and there is no customer tax when you arrive at the package.Therefore, European countries, Germany, Greece, Romania, Sweden, France and other countries have high tax rates. We recommend that you choose Yanwen Express as the first choice. If you need faster DHL, please contact us after payment, thank you
Contact Information:

E-mail: Sales@worldobd2.com
Skype: wobd2.com
What'sapp:+86 15736083074
Tidio Chat: Sales WorldOBD2.com